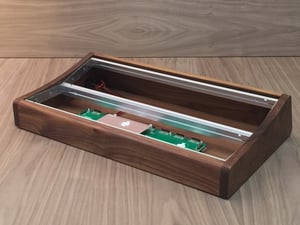 $

370.00
price above is for unpowered case.
goike 6u 0/18 degree curved eurorack enclosure, walnut, 104 hp, minimum interior depth 56mm front row, 67mm back row. originally made to park in front of the 9u or 12u cabinets, and is a nice desktop case on its own as well.
150hp versions are $70 more, please email for a quote with your choice of power.
optionally includes your choice of an intellijel, tiptop, or make noise powered busboard(s) installed with a jack and switch, and a psu. also includes vector rails, m2.5 square nuts, and 6mm screws.
please email for international shipping prices, i apologize for the inconvenience. (typically $80-$110 depending on location and speed)
i am happy to offer anyone a pdf of my profile for their use, free of charge. design licensed under creative commons attribution-noncommercial 4.0 international license.